The boundaries between digital and physical worlds are blurred with augmented reality. It provides a unique method of communicating with clients, coworkers, and the rest of the planet. AR has a huge business opportunity that is already beginning to be realized.

You're looking for a sofa in your living room and trying to imagine which one would look best there. Or going on a tour of a gorgeous villa you'd like to rent this season. Then if you're hunting for a perfect desk and would like to see how it looks in your study room rather than looking at photographs in magazine articles? All of these are eventualities that we may face at some stage in the future. Picture being able to accomplish this from the convenience of your very own home, not making the journey to some of those locations. So what is the hook, exactly? Apps for augmented reality and virtual reality. Now, we'll glance at the potential of Augmented Reality in the different various business industries, as well as its advantages and interesting challenges.



What is AR?
Augmented reality (AR) is a technologically improved representation of the actual world that is created including digital graphics, music, and perhaps other sensory integration. One of the most widely applied AR apps nowadays operates on telephones to display the artificially enhanced environment: people utilize their device's camera to observe the real life over them on the display.

And in the context of the architectural sphere, augmented reality inserts a 3D representation of the construction or design into the actual environment. For example, if a property is under construction, ar building will be presented as it would be in the future.

All data regarding the actual customer's actual environment becomes accessible and available to be technologically modified by the use of powerful augmented reality (AR) technologies such as machine learning and object classification. The software program in augmented reality ( AR ) will determine actual locations irrespective of the sensor or image pictures.



What is the purpose of AR?
AR splits the difference with both realism and image.

Among most architects, the main obstacle and difficulty was always the distance between realism and image. The experts were having a number of difficulties while showing proposals because this is such an important element of any engagement with customers. There's no denying that renders and plans are effective tools, but they make it difficult to accurately convey details and concepts since they don't give customers a feeling of the area. This pleasant development happens now due to augmented reality. AR gives architects the ability to combine multiple 3D modeling, construction programs, and other comparable modern engineering and designing tools with a comprehensive feature that enables customers to grasp each component of the plan.

Briefly said, AR technology aids planners in convincing their customers that their concepts are the best. A designer or architect may bring a user on an enormously powerful trip using augmented reality, making the learning process and dialogue much more effective and interesting. As a result, it's reasonable to claim that enhanced architecture is the way to go these days of the building since it will provide many benefits.

Technological innovation is an excellent instrument for impressing and uniquely showcasing the construction process to customers. Even greater, it enables customers to examine augmented objects, such as ar building, across all perspectives to ensure all is in place.



Augmented reality benefits for business
Shortly, augmented reality will completely transform the way we do business. The main benefit for companies in developing augmented reality apps for smartphones or tablets is that the equipment is already in place, and indeed the interface is simple to use. Customers will be able to virtually test items without actually touching them in real life. This is already easy to determine whether the furnishings are appropriate for the space. Everything is possible thanks to an augmented reality app for Android or ios. Furthermore, as technology progresses, additional biological sensing such as smell, touch, and hearing will become available. A wide range of businesses and sectors, including real estate, medicine, 3D modeling, engineering, and even production, benefit from innovations. Now let us look more closely at the application cases that we, as an AR development business, believe are the most potential.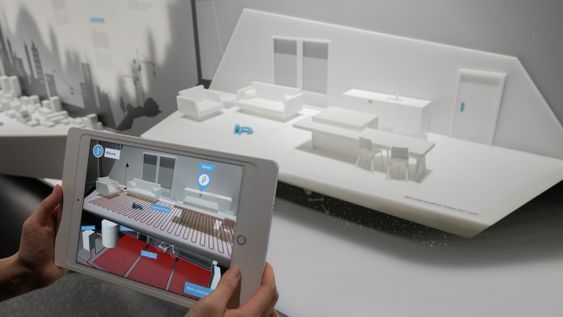 Augmented reality for business in Real Estate
Because the Web is the most popular site for purchasers and people who just want to rent for searching houses or apartments, augmented reality for business has a lot to give the property market. This will let clients have a unique experience with properties, filtering out those they do not like, and thus helping to save effort including both consumers and salespeople. It's also a great method for construction engineering. Professionals convert plans and photos to reality so that customers may visualize what their new apartment will appear like.


Augmented reality for business in the design and creative industry
The innovative, design, and architecture industries are anticipated to be among the most affected by the advent of ar. Augmentation, for example, has been deploying a tool to help enterprises. Companies would be able to deliver stronger marketing and promotional materials if they produce services that allow consumers to try and put 3d objects into different surroundings. AR-enabled home interior apps are available to assist you in choosing the proper layout and design for particular furnishings. It facilitates purchasing selections by allowing customers to "test on" various goods in their very own homes and capture videos and images of the results. It's so accurate that the fabric of the furnishings could be seen.


Augmented reality in 3D modeling
AR can indeed be utilized to assist in the models and design phase, even if you're building a new home or creating a new gadget. Some applications can export and exhibit the Cad model instantaneously, as well as view 3d objects of buildings. AR can assist 3d artists and CAD design engineers since it allows professionals to visualize objects as well as other elements in a three-dimensional space for smoother production and presentations.


Augmented reality for business in furniture companies
Buyers could test furniture until they purchase it thanks to augmented reality. AR augments real-world objects using media files, allowing customers to explore how a sectional couch might appear in the home on a real-time basis even without the worry of purchasing something that might not match. The ability to "test until you purchase" is critical, particularly for large-ticket products. Buyers could check on furnishings without the worry of making a terrible selection, which takes a significant burden off their heads before acking a large investment. Additionally, due to product personalization, ar benefits business furnishings. Before purchase, consumers may preview and adjust the size, shape, and location of the equipment. In this manner, the furnishing company will help clients feel less anxious during searching for equipment by providing consumers with a wide range of options to try out and letting them purchase the best option with just a click of the mouse.


Augmented reality benefits for business marketing
The use of innovation is strong and noticeable.
For a time being, there are plenty more opportunities to shock your clients and expand essential discussion since you might offer them anything which the opponents do not.



Ar technology becomes more and more popular.
Let's talk more about hype. The development of potential clients is assisted by mass media and social networking.


Possibilities for personalization in AR
Regular media material is far less fascinating than an opportunity to produce things original and thus exhibit a person's uniqueness.


Optimization of quality of the content
Using augmented reality, you provide consumers a platform for developing material that previously could not accomplish earlier.


We hope this article was interesting and informative for you. AR technology is incredibly effective and popular for architecture and real estate businesses, and the CGI Kite team consists only of experienced professionals who are always ready to help you!