Everything we possess makes us feel different. Special designing of close or decorations in our apartments, our house's architecture, the jewelry we wear, colors in our room, and furniture in the place we live.

We, customers, are always looking for what suits us best, especially, we are looking for designs we want, our favorite colors. The products speak for themselves with their appearance.
Product visualization, ;interior visualization ;is the best way to communicate with your clients. Especially when it comes to choosing furniture for your apartment, it is very important for a person to choose what is ideal for him, as it will be with him for a very long time. In this case, 3d product visualization is the best choice as it provides very high quality, in particular, we are talking about furniture 3d models. The buyer can see the furnished apartment in advance, he will easily choose what suits him for 100 % without wasting time.



How the design and furniture in the apartment affect you and your family?
The essential part of having comfort, cozy and welcoming atmosphere in our lives is the place where we live, with our loved ones or alone with our dreams, and goals. The place, whether it's an apartment or a house makes you happy waking up every day. Isn't it?




If your answer is "yes", can any housing, no matter how it looks, bring you happiness?

Most likely not, since an apartment or house with a poor interior designing or furniture that you or your loved ones, a little, but still annoys, will not be able to bring pleasure and positive moments while you live in it. This can reduce your enjoyment of staying there by about 50%. Moreover, your relationship with loved ones can get worse as you, your wife or husband, daughter, or son will be dissatisfied with being at home in an uncomfortable space.
Now you have the understanding that the furniture, arts, decors in your accommodation are incredibly important to your and overall well-being.


Luxury furniture showroom: a case study
Photorealistic 3d furniture models are strong tools for showrooms or furniture company owners. As furniture rendering helps to have a closer connection with the client. Makes it clear to your customers that you care about your products, visualizing them and trying to improve. We believe it is very important people understand they can expect the same care and realize you will help them to choose the best and most suitable furniture for their apartment.
The leading American furniture company needed to present their products properly for their clients to choose what bests suit them. Our team provided 3d furniture rendering thus helping with the marketing campaign. Our task was to show different products in one room. We made 3D models of the furniture and harmoniously fit them into the interior. The client provided us with inspirational pictures and chose the style for each picture. And our 3D artists made excellent CGI interior design.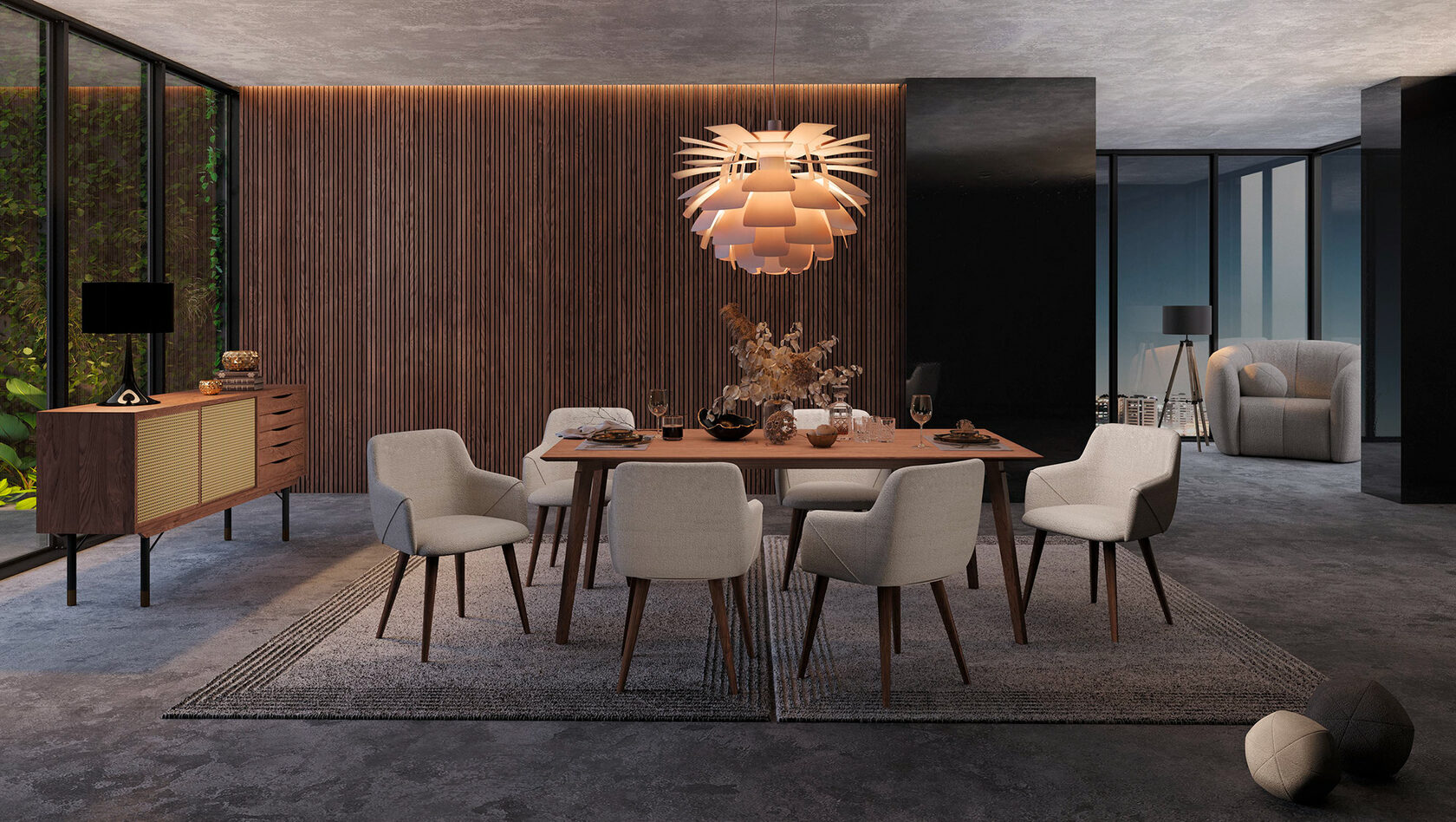 The main business purpose of using product visualization for furniture
When you buy a product, you first think about its appearance. You have no thoughts about its practicality for long-term use. No. You think about how good it will look. If we are talking about furniture, then most likely you will be trying to visualize how a sofa or a table, for example, will look in your apartment. It is very important to understand how well the furniture you want to buy will match the color scheme of your living room, whether it suits other furniture. Is this chair presentable enough to take a photo on it? We are sure that many girls very often thought about this when choosing furniture.



But when everyone produces a quality product, you can stand out and attract buyers only by the peculiarity of your brand, namely the benefits that only your company can provide. This is the most difficult part. At the moment, the most effective method is modeling services, particularly we are talking about 3d model furniture.

You are not selling just a device with a wooden frame and soft leather upholstery, you are selling a lifestyle of your own customers. The task of a high-class furniture manufacturer is to do its job, namely to provide people with a quality product. And our task is to show this style with the help of 3d product modeling. You don't want to waste your time choosing photographers and models, every time evaluate whether you like lighting, spend money on the work of these people, don't you? Professional designers and 3D artists will take into account all your wishes and ideas. As a result, you will get faster and profitable results for your company.
All the more, imagine the situation when you do not quite know which color is best for a particular sofa and you know that you have had cases when a client liked the model but did not buy the product because of the wrong color. Using modeling services the client can see the 3d furniture design and decide what color best suits. After you provide a furniture model especially for him. Thus it's just impossible to have some wastes of your money as all the products will be sold to its happy owners.
Our client who owns a large furniture manufacturing company was very pleased with his profit and will satisfy his customers after using furniture modeling.



What we got from the client
We are always very happy when the client provides us with a sufficient amount of the necessary materials. It is always much more convenient for our 3D designers and artists to work and provide a quick, effective result only if the client fully understands what result he wants and what nuances should be done at our discretion.
Well, let's get down to the analysis of the materials that our client gave us for providing him with furniture 3d models.

The general presentation of the desired result greatly facilitates the work. To find the references most suitable for your needs, it is very important for 3D artists to see what inspires you, how do you imagine the picture, what aspects of it are most important for the final result. As for the process, we selected the references and the client approved the most suitable of them. Thanks to this, the 3D artists understood what kind of lighting needs to be done, what type of scenery to choose for the overall juicy look of the 3d furniture rendering, how the sofa, table, and chairs, for example, should be positioned between each other, what format of the picture is preferable.
For making accurate product visualization for furniture, we need to understand what is the type of furniture, its materials, and textures. Also, we need to know which decorations you would like to add, which color wallpapers must be for looking good together with your products.
It's possible to provide us with some sketches, inspirational images, and examples of similar interiors and our designers will find the most suitable reference pictures for you. ;
But the best option, that our client provided us with, is if you already have all the needed materials, can share with us the exact number of colors, have the real pictures of furniture and the desired decorations. You even can send us a link to an existing sofa or a desktop, so the precise 3d model of a particular object. With all these materials our 3d artists will make clear-cut interior renderings.


Process of work
First, our client gave us all the necessary materials. We selected the references and received approval. The second stage was the selection of the 3d furniture renderings corners. After we made models of all the necessary objects in white. The interesting thing about this project was that we made 3D models of the man and women based on real-life people. Further, the process of work was the same as for a 3d interior render.



Conclusion
Well, we hope that it was interesting and informative for you. We together managed to understand that it is very important to give people the opportunity to get what exactly they want for their well-being and comfortable living. Every detail in your home affects how you feel. 3D visualization will be able to help people with the choice of the furniture they need for their apartment. After all, first, we need to look and understand whether this or that design is suitable for our lifestyle.